How do you summarise 3 weeks of travel, food, historic sites, and mind blowing artefacts combined with an artist residence program in a chateaux in France? Im not sure I can at this point in time. I'm still trying to absorb, contemplate and reflect upon what we did, what I learnt, and how I can apply those learnings back in 'real life'.
Whilst Mr Zen and I squeezed in some touristy things (Monet's Garden in Givernay, Bayeux tapestry, Mont St Michel, Monolithic stones in Carnac, charming half wooden houses in the Alsace region, castles and the Apocalypse Tapestries in the Loire Valley) and our experiences of these places provided much inspiration for future art projects, the main incentive to travel to France was to participate in an Artist in Residence programme at Châteaux Orquevaux.
Situated in the heart of the Champagne region, the chateau is in a small town that has about 70 inhabitants. According to Singulart.com Châteaux Orquevaux is considered one of the top 10 most beautiful artist residences in the world - and subsequently it is a highly sought after experience and there is a 20% chance of being selected.
I arrived with a number of ideas that I wanted to explore, however I quickly decided to work on one that had been inspired by our travels through France: the 'plat du jour' bistro menu. What started as a tongue in cheek commentary on how we photograph their food before eating it with the intention of posting the dish on social media, I started photographing the plates at the end of a meal because of the beautiful marks and textures the food left behind.
Working with elements that related to our experiences, I chose to explore mark making with natural dyes using blackberries that grew along the paths at the castle on antique French linen I was fortunate to find in a nearby town. The prints were then embellished with stitching.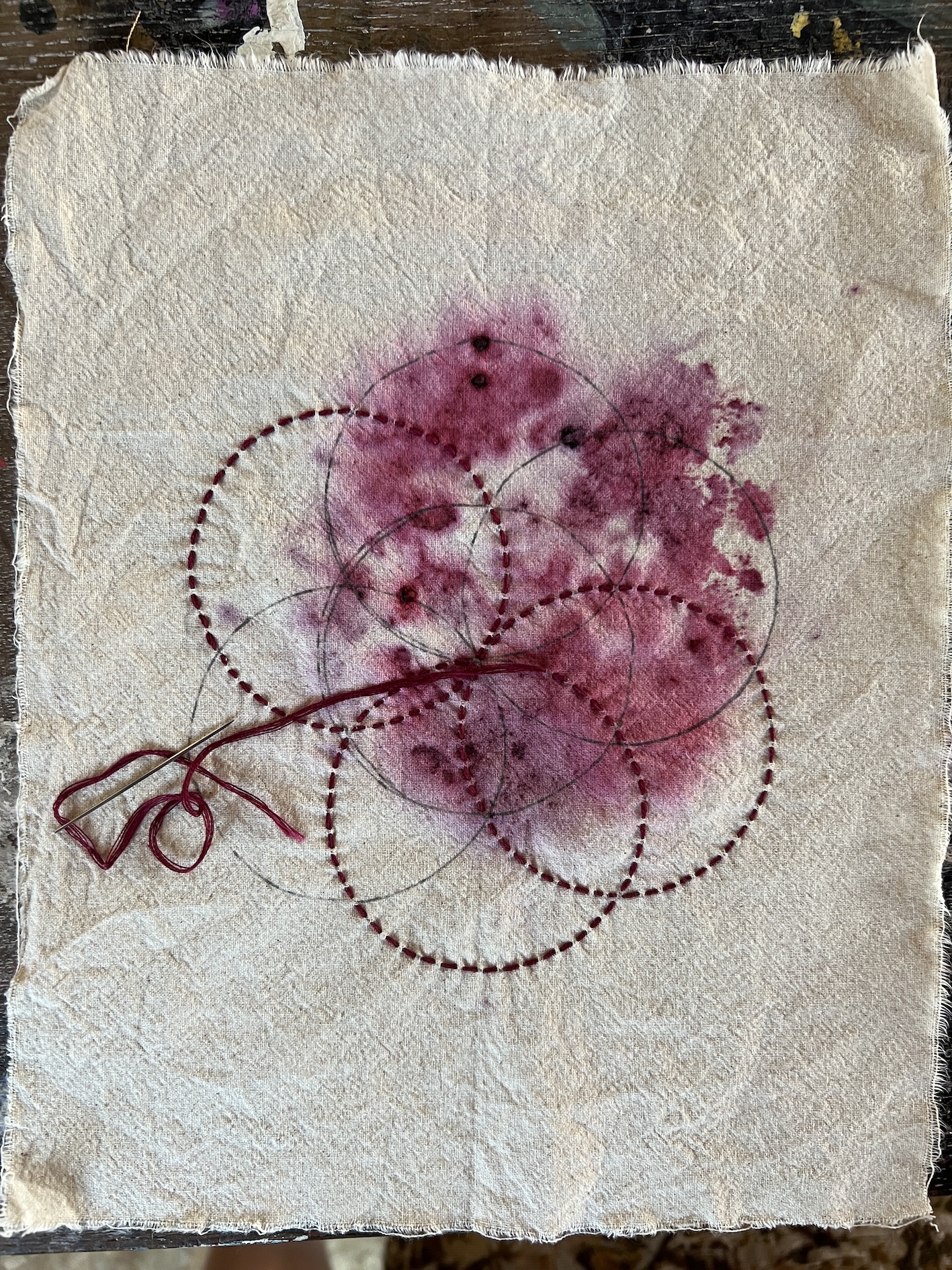 Ultimately the residency provided the time and space to be open to new concepts and new ways of working- which is an exciting time for an artist to rejuvenate our practice. However, this residency also provided a series of events that you could choose to participate in, such as a writers workshop, life drawing session, literature night, saxophone concert, bonfire night and an open studio at the end to exhibit your work with the group for feedback.
What does a typical day look like at the residency?
Well, it will be different for everyone, and connection with the other artists happens mainly during meals: breakfast, lunch and dinner. It has to be said that the meals are nothing short of amazing. Breakfast consists of croissants, bread, cold meats, a delicious selection of cheese, and fresh fruits (much of the produce was locally sourced). Lunch is usually any leftovers from the night before with salads, and dinner is always an amazing array of delicious french countryside dishes and dessert (we were treated to creme caramel one night, tiramisu another night, pear tart another…..mmmm). So our (my) lives revolved around the meals.
I got into the routine of going to the studio before breakfast. Stopping to eat (usually a ham and cheese croissant) and some fresh fruit at 9am, before going back to the studio and doing some more work. Stopping again for lunch at 12 when the local church bells tolled. Then working a bit more in the studio. Being summer it was hot, around 30 degrees C so quite often we would stop mid afternoon for a swim in the 'pond' - a fabulous way to cool down for the evening.
I realised that despite my desire to spend all my time in the studio, it was beneficial to stop and take breaks. So I would pop into the other artist studios to see what they were working on and have a chat. This has helped me realise that time in the studio is a balance and whilst it's tricky to get right, it's important to leave space for other opportunities to arise.
Having arrived back home and trying to get back to 'real life' I have been walking around my town. Having been away from home for three weeks, it gave me a different perspective and I realised that whilst my town may not be centuries old with delightful stone buildings and very small narrow country roads, it is still very pretty. Beauty and inspiration can be found all around us if we keep our eyes and hearts open. And whilst walking through the local park I realised that my home is my chateau - I just need to reframe my perspective.
At the risk of sounding cliche, the residency really was life changing. Not only did it provide time and space to create art, but it also gave me time to reflect, and the opportunity to reset and redefine my priorities and consider what is important, helping to look critically at my ways so that I can include more of the important stuff in my life going forward.
F​​or artists at all stages of their career, residencies are a significant step in gaining professional experience, and most importantly, it allows the time and space to reflect and explore creative potential. In describing my experience to others I've found it hard to articulate the special balance and flow that came to be in that environment, and I'll credit Beula and Ziggy, the Directors of Chateau Orquevaux for providing a such a beautiful space that nurtures and encourages creativity in such a supportive environment.
View more images of my experiences on Instagram >>
Learn more about Chateau Orquevaux Residency >>